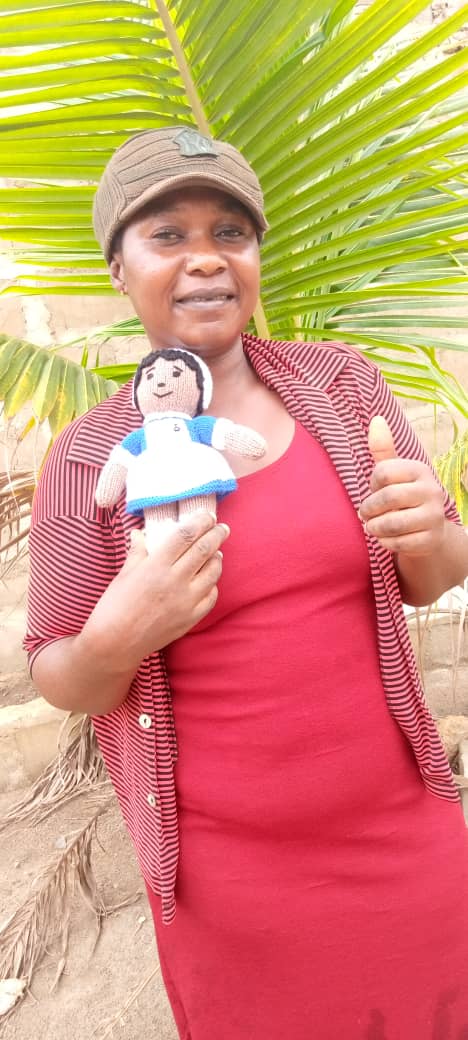 The women from Amputee are strong, enterprising and quite determined to improve life in their community. They take the initiative and never fail to surprise.
The women of Amputee Village are more involved with improvements to their village life. How do they do this? They improve their literacy and numeracy skills; they seek better health care in the community and they learn self reliance skills. This happens with determination and initiative. They now have two sewing machines but four would be better. Justina is their tailoring tutor. In addition opportunities exist to learn traditional crafting skills.
The women of Amputee Village can choose to learn gara dyeing to make colourful lengths of material. The lengths are worn as wraps or sarongs. Other women choose to learn tailoring and the third group learn traditional weaving. The traditional loom is interesting It is home-made from local, natural materials. The women of Amputee Village weave colourful strips which are long and narrow and can be sewn together for a variety of items. It is fascinating to watch. Perhaps on a future visit the ARET team can learn. Learning crochet is a further option.
How many women are involved?
Just now the women's group has 30 members. But women from surrounding communities are curious and they too are showing interest.
What else is happening?
Health is a high priority. Christina is a qualified SRN and Jane is currently training. Their ambition is to provide better health for all. Mallaig Health Centre in Scotland gave ARET surplus basic supplies: test tubes, sterile dressings etc. Also included in the box are small hand machines to test glucose levels. Of course Jane and Christina are excited about the latter. Diabetes is a serious health concern for many in Sierra Leone. As a result of support and supplies a small extension is being added to Jane's house will soon serve as a consultation area. When it is ready people will be encouraged to visit, to discuss health concerns, seek advice and basic procedures.
ARET can't help but wonder what will be next.