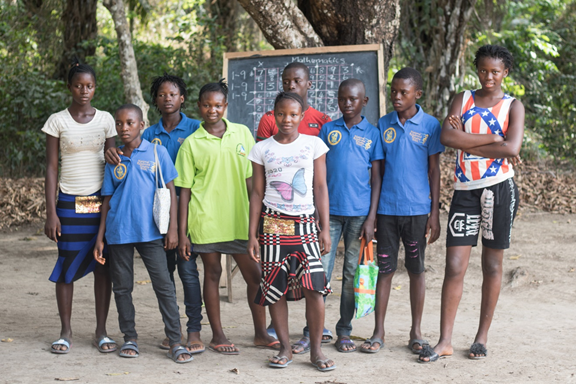 THE ROGBONKO TEN [10] FOREST SCHOOL
PUPILS SUPPORTED PROJECT ARET. 2020-2021 ACADEMIC YEAR REPORT
CORDINATED AND SUPERVISED BY ABASS FONNAH
This project is successful simply because the few students who were enrolled in a voluntary classroom of extra-curricular studies in my community from Primary to Secondary can now speak and write better English. Currently the pupils have progressed to Junior Secondary School (JSS) and Senior Secondary School (SSS).
The support to do this has come from the Alec Russell Education Trust (ARET) which is a grant giving programme that aims to increase educational attainment for children and adults living in the developing nations including Sierra Leone. Established in memory of Alec Russell (ARET) it now supports many projects including a unique project in the remote village of Rogbonko. Through implementing and hosting and revision system of the weekly school work and co-ordinating with the neighbouring Secondary School, village children can now get access to more education and experience progression.
Thinking about my project and the competence and commitment of my participants I am proud of producing the best students in my community. Should the Alec Russell Education Trust continue to fund my project with the provision of adequate learning materials and other incentives to enhance the smooth running of the student group then the project will continue to be successful.
The participants in my project will give back to the community by helping other village children to study and progress them in their academic work. School materials will be shared and uniforms passed on to some students who do not have the chance to get them when they are moving to next level of SSS.
The community also has great concern for the students, especially the Town Chief. He is the first gentleman of our community and will make a home visit when one of the selected project students fails to attend classes or extra-curricular classes. The Chief will advise and counsel the individual so that the opportunity is not lost and the aims and objectives of the project will be upheld.
Up until now decision making in our project has not been formal but through the Headman of the village it is known to the parents of the beneficiaries and to the community. We lately have considered planning a document to be prepared and presented to the beneficiaries of the project which should be endorsed by each and every individual that after the completion of his/her academic studies he/she should help in the development of the community.
We also feel that if any of our group continue into tertiary education the selection of candidate should be made by a process determined by ARET.
As visits between Scotland and Sierra Leone are unlikely in the near future due to COVID restrictions we hope to continue giving news of our project through the accepted media channels.
Abass Fonah