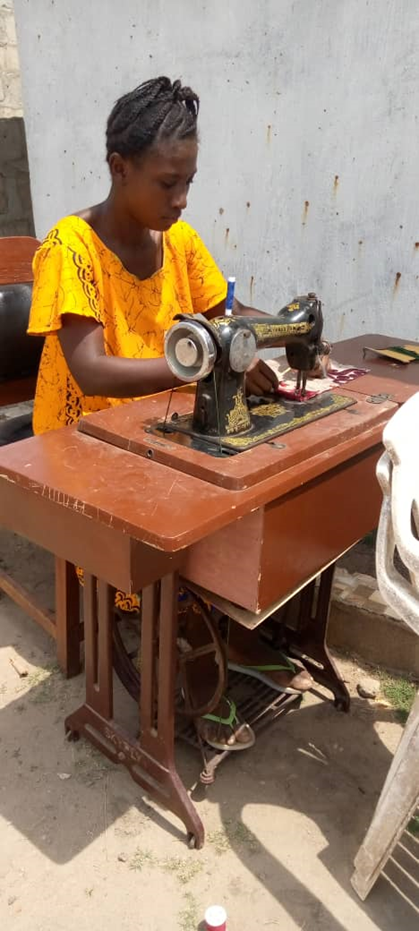 Project Leaders: Alpha Kallon and Jane Cole
The women's project is a success. This is a result of materials being available and also good team work. The periods of lockdown during COVID has been difficult and the economic situation in Sierra Leone. There is no price control on food and basic staples, like rice, can have some big price increase.
Some of the skills taught are sewing, gara tie dyeing and weaving. Now the paticipants are sewing clothes in the community and they're also sewing the uniforms of the children at the school. Before community members go to the central business area of Wateroo have clothes sewn. The women who learn skills teach others who are still to learn. It is good to see women showing something the have made and being proud of their efforts. In addition to traditional crafting skills we also offer free literacy classes.
Afri-Scot is a market stall offering a combination of materials sent by donors through ARET and some materials bought in Sierra Leone that can be sold for an affordable price. There are needed goods that we buy from importers at a discount and in turn sell with small profit. The profit from donated goods goes towards lunches for the children. The profit from the goods we buy add to Afri-Scot capital to allow further purchase and to the general needs of Shieldra School and Community.
The business has now moved to the central business area rather than Amputee Community. The market area is more populated, and more sales are made. We ask shop owners if we can sell beside their premises. There is a challenge during the rains. It is difficult as the shop owners cannot allow outdoors traders to occupy and block their entrance.
Before most children have been irregular in their attendance at school. When you ask them why they will tell you they have no lunch to take to school. When the children are fed the teachers report that the learning is improved.
.
Teacher Training Programme
In Sierra Leone completing Secondary Education is a dream that many cannot achieve. Many missed out on the opportunity because of the long and devastating Civil War. The expense involved is now too much for most families. To complete Secondary Education and sit the West Africa Secondary School Certificate exams requires sacrifice and passion. We all know that to be successful and secure a good level of education is required. This year three students from Shieldra are improving their teacher qualifications. This is made possible by the Alec Russell Education Trust and friends. As mentor to the group I am proud to say we are all doing well in our studies and we should all be qualified at various levels by April 2022. The self esteem of the students in the teacher training programme is high and they provide motivation for others.
Shieldra School benefits from the professional training of teachers and we all are developing our individual specialisms. The teaching is now more child centred than before. With a lack of resources rote teaching was the favoured method of teaching.
The school now has a well and latrines are being built for the pupils and staff.