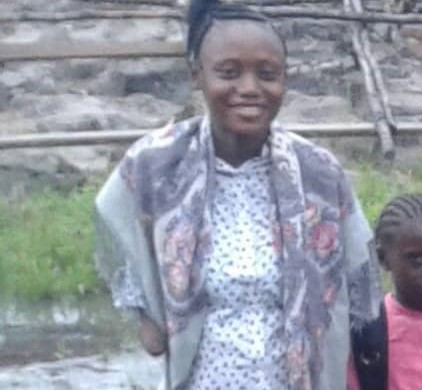 Michael from Shetland designed and built a Noah's Ark with animals for the children at Shieldra School. Naminatu an assistant classroom teacher at Shieldra School worked, studied and dreamed about becoming a fully trained teacher.
Noah's Ark and animals arrive in Amputee Village and delivered safely to the children at Shieldra School.
Naminatu received her West Africa Senior Secondary Certificate of Education (WASSCE) with enough passes to apply for further education. Naminatu asked if her request for sponsorship to College could be considered by ARET. ARET, already sponsoring five candidates, had decided to wait till their planned four year review before considering any further sponsorship.
Sometimes it is hard to be a Trustee and say, 'Not just now.'
Often it is hard to live in a country still struggling to provide the basic rights of each human being. Once in a while a social media post and a reader starts a chain of events.
This is Naminatu's story.
As a young child she experienced violence, as so many did during the brutal Civil War. Her arm was chopped off from the elbow joint. She survived but to many, who openly voiced their opinion, she was hardly considered to be a child worthy of education. Fortunately for Naminatu her Mother paid no attention and encouraged her daughter to dream.
ARET, very much in its infancy, first became aware of Naminatu at a church service in Amputee Village. She was sad. Senior Secondary Education in Sierra Leone, at that time, was expensive for those already experiencing hardship. Naminatu's sponsorship had just fallen through. When Shieldra School was finally built Naminatu volounteered to work as a classroom assistant. A request was made for her to attend classes and sit the WASSCE exams. During COVID there were challenges. Naminatu dreamed on.
A social media photo and post of Naminatu reading Noah's story to a group of Shieldra pupils with Michael's Ark and animals caught Julia's attention. Julia from Shetland has worked hard and made significant contribution to ARET. 'Who is the wannabe teacher?' she asked. The story unfolded.
The story continues.
Julia organised and offers were made. Unite Oil and Gas Shetland offered a sizeable donation; Rosemary made a wonderful bag which raised a significant amount through a raffle; donations for an online auction are being made. It seems that the target of three years fees will be easily met. It will be October 2021 before everything is in place. A young lady in Sierra Leone is determined to succeed. This is her statement.
Naminatu Kamara
Resident in Amputee Village, Joetown Road, Waterloo, Sierra Leone
I live with my mother and brothers. It is my ambition to study for a Teaching Certificate at Freetown Polytechnic. This will take 3 years. I like to be involved in education as it gives me strength and courage to forget about the violence and pain I encountered at a very early age. Education is going to allow me to be successful in life. Without it I will never be considered in my community, society or the world as a whole.
I have been volounteering as a teaching assistant at Shieldra School and this has not only increased my knowledge but given me such happiness. Teaching the children, sharing knowledge with them and guiding their learning so they understand improves my self esteem and the way my community see me.Since the violence of having my arm amputated I have faced so many challenges. No-one came to help my mother. In a country at war with each other social help and medical help was not available. When I wanted to return to school many comments were made to my mother . What is the point of schooling her? She will not be successful. Look at her. My mother did not listen to these discouraging remarks and thanks to her support I continued in schooling and was encouraged to dream my dream.
ARET then helped me to study for and sit the West Africa Senior Secondary Certificate Examination (WASSCE) and I am so proud of reaching this level and gaining enough credit to apply for teaching training. If I can find sponsorship, I know I will achieve my dream. I will be an example to others who are also disabled. They will realise that a disability does not mean you are useless and should be cast aside.
I aim to be successful and an ambassador for my community.
Naminatu Kamara