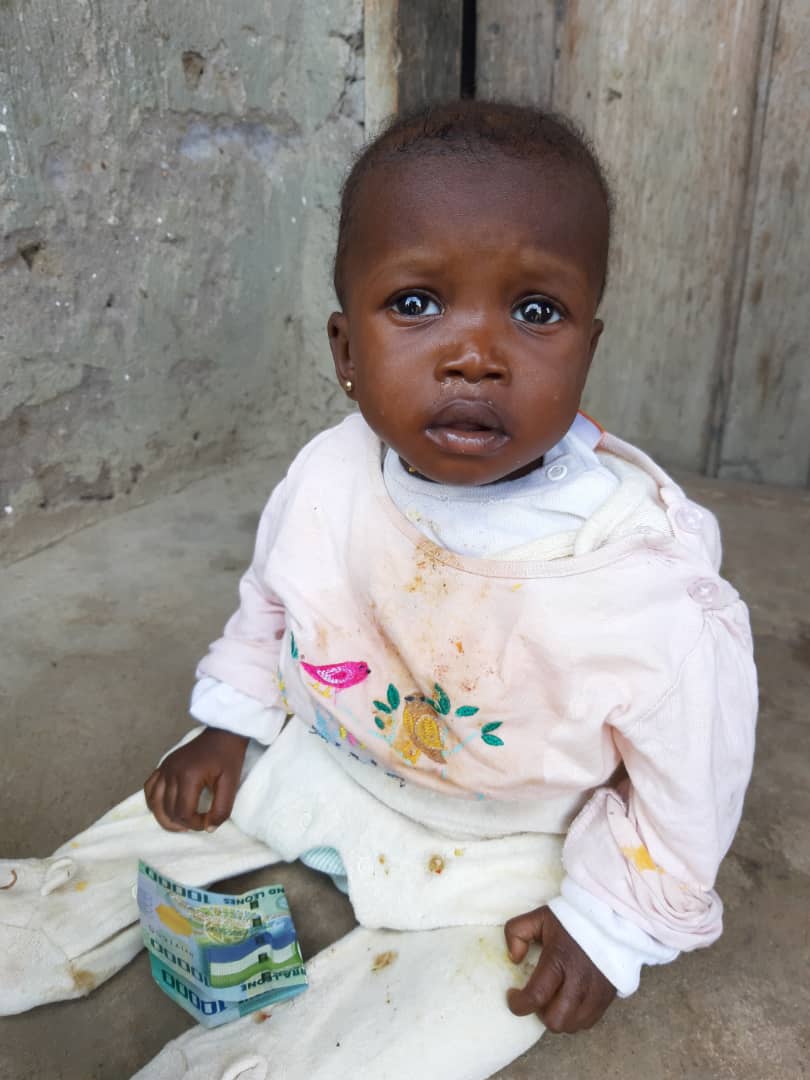 It was inevitable that Covid 19 would eventually hit Sierra Leone. Lockdown, health and safety measures, social distancing, emergency food supplies, housing and income support that were available to us in UK were either not practical or simply not available in Sierra Leone.
For many, water for repeated washing of hands involves many trips to the public well and carrying heavy buckets back. Social distancing is difficult in houses where extended families share accomodation; food for the majority is not available if you cannot work and if there is no income there is no financial support at all. Many feared lockdown.
Our very generous supporter, who wishes to be known as Cara, contacted ARET and offered to work with us to make some contribution to alleviate concerns, fears and hunger. Together we supplied funds to purchase hand sanitising stations for the areas we work in and funded packs of food for the one week lockdown period to areas of extreme deprivation. Individuals most at need were identified by the head person of the areas. This was only possible through the effort and work of Abdulai Sankoh and his wife Hassanatu who visited the areas, listened and devised a plan. There are a great many people thankful for their energy, thoughtfulness and attention to detail. A short video of their work has been compiled by Chris and is available for viewing.
Many professional people, lecturers, nurses, teachers, public workers and those employed by private businesses are without any salary or delayed salary for pre-Covid work. Heavy demands are made on their savings through helping others, medical expenses and rapid inflation. Nonetheless there are heartwarming stories told about the people we know in Sierra Leone.
One such person is Jane. Jane is a qualified teacher and currently enrolled in an SRN Degree supported by ARET. She sees a great need for the community she is part of to self-improve. This has in part been done through the building of a school where education is genuinely free; where the community help support the teachers . These teachers volounteer in return for formal training supported by ARET. Other teachers in the area have the opportunity to meet at the school and participate in education workshops. The school is also a centre for a Woman's Empowerment Group. In 2019 a widow and mother of five children was offered shelter in one of the unused classrooms. Just before Christmas 2019 Zainab, the mother, died. Jane immediately took charge of the children and offered them a place in her family. They have settled and one young boy, Mohammed, is doing exceptionally well in his education. Early in 2020 Jane took some interest in a young woman and her child. The nine month old Fatima (when we met her) was severely malnourished and her life expectancy was very short. Although there is a free programme of specially enriched nutrition available in Sierra Leone in reality it is 'somewhat free' to some and inaccessible to others. To access vouchers involves travelling to a clinic and paying the clinic fee before the milk is available from the Pharmacies. To others who have to work hard each day in order to eat occasionally such a journey and fee is impossible. Jane and others helped to feed the mother but the food for Fatima was inadequate for her needs. A qualified SRN nurse supplied the information required; ARET supplied the money to purchase the necessary powdered milk and Jane bought , stored and regulated the supply as required. Baby Fatima is still thin but what a difference.
To support all of this and more, Jane acquired a small road side shop. She started selling basic food and household items. Just before the pandemic took hold in Sierra Leone burglars broke through the 'flimsy' wall and stole provisions. Jane's attitude? Well, these people must have been wretched, frightened and hungry. ARET has paid to strengthen the security of the shop and Jane has started again. Recently Cara contacted me with news that she had knitted a huge supply of soft toys. Cara's soft toys are wonderful. These are going to be sold in Jane's shop. Another contact, whom I will call S, sent a heavy package with dresses, boy's shorts, zipped bags, tote bags and baby bedding . Some of these will be given to the most needy but the bags will also be sold in the shop. I have been asked if the profits from the shop will be put to the use they are intended for. I asked Jane. She said, 'The shop was bought with the intention of helping to care for orphans and contribute to the emergency needs of the community.'
Well done, Jane and friends. We all wish you well. There are some very large boxes heading in your direction and we hope they help.
If you are reading this and would like to help we regularly send boxes of small items to Sierra Leone. The type of items wanted by the communities is available in the 'How can you help?' section.