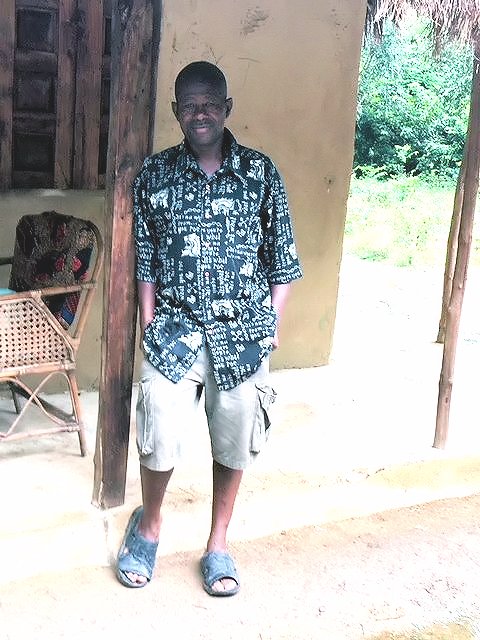 The first time I went to Rogbonko I had no idea what to expect. A village in the forest off the beaten track? If you came to visit me I would tell you I live in remote rural, somewhat off the beaten track. Being away from busy towns and cities is just fine. Rogbonko was just fine and the people so very friendly. Abass was my host.
He had prepared my room, he cooked my food, told me about the history of the village, the kind of books he liked to read and how he would love to have a library in his home.  I had brought some books to Rogbonko envisaging long days with little to do. I was very active and barely had time to read anything whereas Abass had his nose stuck in one of my books at every opportunity.  I eventually left all my books with him and promised to take more if I returned to Rogbonko.
I did return and I did take books to add to his library and was quite amazed at how Abass had developed a little school on next to nothing. Who better to tell the story but Abass himself.
Meet Abass
My name is Abass Ahmed Forna. I live in Rogbonko Mathalea Village. I am a qualified Primary School teacher and currently a volountary teacher conducting evening classes for selected pupils from Primary 6 to Junior Secondary Level. My main focus is on the Core subjects which are English, Maths, Integrated Science and Social Studies. The emphasis on these subjects is because the Government of Sierra Leone grade these subjects when promoting a pupil to the Senior Secondary School and thereafter when they enter Tertiary Level.
A brief history of education
My country, Sierra Leone, has been in educational turmoil since the start of the senseless Civil War followed by the terrifying Ebola epidemic. During the Civil War rebels entered the villages burned down the schools and equipment and shot the teachers. 1270 Primary Schools were destroyed. We have been encouraged not to speak about the horrors and atrocities but to learn to forgive and live with each other again.
The current situation
Education in Sierra Leone is compulsory for all children and officially "free of charge". The education norm is to receive at least six years at primary level and three years in junior secondary education. But a shortage of schools and teachers, and a general lack of resources have made this implementation extremely hard. The limited resources means that the quality of education is at times lacking.
'Free of charge' means the parents pay no fees but they must provide their children with uniform, shoes, the Core Books and stationary equipment. For many parents this is almost impossible.
Rogbonko Village Chief
The Village Chief not only endorses the evening class but actively supports it.  He paid a visit to the parents in their homes and spoke to them about the importance of education. He emphasised that the privilege of attending this class would mainly depend on the commitment, perseverance and cooperation not only of the pupil but also of the home. Time must be allowed for studies. This way their child would benefit and would reap rewards for themselves and their family a few years later.
The recent experience
It has not been easy. Initially we had no materials not even jotters and pencils. Then a chance visit resulted in the gift of basic books and stationary.  One young man whose education had been seriously disrupted was identified as having great potential and a passion for learning. Arrangements were made to fund tuition in the neighbouring town to prepare him for the Senior Secondary Exams. He is currently awaiting results to see if he has achieved entrance to Makeni University.
To ensure that the weekly topics of school are reinforced by the evening class I visit the village Primary School and the Junior Secondary Schools in the neighbouring town on a weekly basis. The teachers are very happy to liaise with me and there is some interest in helping me develop the class through a few volounteers.
We have just been gifted more stationary and two portable blackboards and chalk. The blackboards make a great difference.
Alec Russell Education Trust believe that education is the backbone of a developing nation and are keen to support this enterprise. They have awarded money for the purchase of Core Books so that the pupils have at least one book between two and have also funded the compulsory purchase of uniforms which will take some of the burden from the parents.
The future
We have been assured that more funding for books and uniforms will be available in the next financial year.
We do not consider the representatives of ARET as visitors to our village but as members of our collective families.  Our Chief welcomes them and receives them warmly.
It is our dearest wish that the Government will put things firmly in place to enable complete support for my class and others like it.
African Proverbs
There are a few proverbs in Sierra Leone that relate to people having to help themselves and not sit around expecting everything to be done for them. The sentiments of these proverbs were expressed by the Chief, Abass and the parents at the meetings to discuss the current situation and the way forward.
"Yu go cham fo posin, bot yu no go swala foram" = You can chew for a person, but you can't swallow for him.
Postscript from ARET
We had not expected this level of development and look forward to visiting Rogbonko in another year or so. When you meet Abass you instinctively know he is a kind and gentle person. When you watch him teaching you cannot help but admire his gentle and supportive methodology
So many of the children in Sierra Leone do not find the learning hard but they meet so many obstacles as they try to walk along the  road to learning.  Like Abass we hope that the new Government will manage to put a firm educational structure back in place.